Students at Ashlawn School celebrate A-Level achievements
17 Aug 2023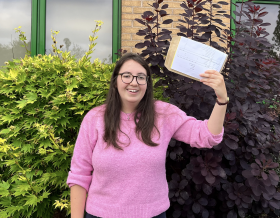 Students at Ashlawn School in Rugby have been celebrating their A-Level results today, with many now preparing to take up their places at some of the country's top universities and higher-level apprenticeships.
Paul Brockwell, Principal at Ashlawn School, said: "My congratulations go to all of the students receiving their exam results today. It has been fantastic to see so many talented, hard-working, young people celebrating their achievements and looking forward to the exciting future that awaits them.
"It is important, however, that we don't forget that this is actually the first formal set of externally assessed exams that the vast majority of these students have completed, so their achievements are all the more amazing."
Amongst those celebrating were twin brothers, David and Rhys West, who both chose to study the same subjects at A-Level – Maths, Further Maths, Physics and Engineering. After securing an impressive 4 A*s, 2 Distinction*s and 2As between them, they are both heading to university in September, which will be the first time that the brothers have spent time apart.
David West said: "I'm very happy with my results, particularly as some of the exam papers were quite challenging. I'm looking forward to starting my Medical Engineering Degree at the University of Southampton and am keen to pursue a career in the biotech industry."  
Rhys West added: "I achieved what I expected and am really pleased, I'm looking forward to joining the University of Warwick soon to study Maths."
Ashlawn's Head Girl, Georgia Black, achieved A* in Psychology, A* in PE and A in Biology, in order to confirm her place at Loughborough University to read Sports Science. She said: "I've only been at Ashlawn for Sixth Form, but I feel like I've really improved since my GCSEs. The teachers are brilliant, my PE teacher, in particular, has been very supportive. I'm so proud of what I've achieved."
In a few weeks' time Hannah Bowers will join the University of Nottingham to begin a four-year course in Chemical Engineering with Environmental Engineering, after achieving A*, A, A in Maths, Physics and Chemistry, respectively. She said: "I've had some sleepless nights this week, so it's a relief to finally open my results. I chose some of the hardest subjects, but I felt supported and prepared for the exams.
She added: "I've really enjoyed studying in Sixth Form, the academic challenge and the opportunity to develop in myself. In particular, becoming a prefect then Deputy Head Girl, it was confidence building and nice to help others too."
Brieze Clarke has accepted a place to study Medicine at the University of Lincoln after securing an A* in Psychology, an A in Biology and a B in Chemistry. She said: "I'm so pleased I've got my place at university. Revision was full on, but I'm glad it has all paid off. My mum's here with me today and she's so proud." 
Sam Larcombe was particularly pleased with his results, achieving an impressive 3As in Sociology, Economics and Politics, after taking some time away from school in 2022 to focus on his mental health before returning for an additional year to complete his A-Levels. He said: "I wasn't sure I'd get the grades I wanted, but I'm so pleased. It was a bit daunting to return for another year, but I'm glad I did and felt so supported.
"I'm going to go and call my family now, I know they will be really happy."
Mr Brockwell, Principal, added: "At Ashlawn School we talk about the importance of doing our best, always. Alongside supporting their academic studies, we do all that we can to work alongside our students to nurture their potential, look after their wellbeing and help them to excel throughout their lives. We are so proud of them all."