Remembering the Fallen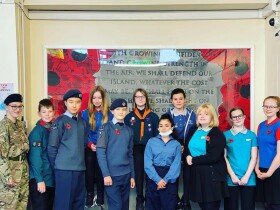 Pupils across the Transforming Lives Educational Trust took part in many Remembrance activities this week.
At Henry Hinde Infant School, our youngest pupils were introduced to Remembrance in assembly, learning more about the poppy as a symbol of Remembrance and hope for a peaceful future. While at Henry Hinde Junior School classes explored what life was like for soldiers in WWI and WWII.
At Ashlawn School, pupils reflected on the importance of observing a two-minute silence to remember the fallen, both as an act of kindness to those who have been affected by the loss of loved ones in service as well as respect for those who have paid, and those who continue to pay, the ultimate sacrifice for the freedoms that we enjoy today.
In addition, some students and staff chose to attend in their uniforms for the organisations that they represent a positive visual reminder that service continues in our community.
In their mark of Remembrance, pupils at Houlton School created poppies and a wreath from recycled plastic bottles, to display in the school's courtyard. Principal McCulley read 'The Soldier' a poem by Rugby local Rupert Brooke, while students also heard about the life of Rugby's Lady Dorothie Fielding, the first woman to be awarded the British Military Medal as well as the Croix de Guerre by France and the Order of Leopold by Belgium.
Jennie Nurse, Principal at Henry Hinde Junior School, said: "Remembrance is an incredibly important date in our calendar.
"Each year, across each year group, we discuss the bravery and sacrifice of all those who have served their country and died in wars across the world, in order to secure future peace for generations to come."