Houlton School is praised by Mark Pawsey MP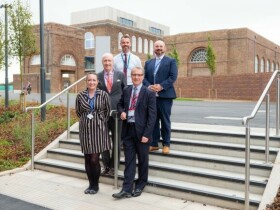 The transformation of the iconic Rugby Radio Station into Rugby's newest secondary school has been praised by the town's MP during a tour.
Mark Pawsey joined founding pupils and staff of Houlton School to explore the new site, which officially opened its doors to 180 Year 7 pupils in September.
He was joined by Nigel Hugill, Chief Executive of Houlton developers Urban&Civic, Johanne Thomas, Regional Director for Communities at Urban&Civic, and Houlton School's Principal, Michael McCulley, for a tour of the school.
Standing in the historic Grade II-listed Rugby Radio Station's Transmission Hall, which is now at the heart of the school campus, Mr Pawsey saw how many of the building's original features have been restored to link the new school to the heritage of the former Rugby Radio Station.
He was also shown the new school buildings – built as part of the two-year, £39million project to transform the site – which includes a humanities block and science labs.
Mr Pawsey said: "I've had the opportunity to see the development of Houlton School since work began and it was great to see the first cohort of Year 7 pupils enjoying the new facilities. The school delivers on creating a fully modern, state-of-the-art, educational centre whilst still recalling the unique heritage of the former Rugby Radio Station building.
"It is also thanks to the hard work of Urban&Civic and those who worked on building Houlton School that it has been able to open on time, despite the challenges of the pandemic."
Johanne Thomas added: "We were keen to show Mark just how resilient Houlton has been through this challenging period – from all perspectives. Transforming a listed building into a school, through a global pandemic, has been a huge challenge but made possible through the commitment of our contractors and partnership with Principal Michael McCulley and Transforming Lives Educational Trust (TLET)."
Michael McCulley, Principal at Houlton School, added: "It was an honour to take Mark Pawsey on a tour of our finished school.
"As a new school, we have had the great privilege of building our community from scratch. We have taken so much inspiration from the iconic heritage and stunning architecture of our location, and have developed a campus featuring state-of-the art facilities that will provide so many world class opportunities for our pupils."