Houlton School holds its first Pupil Forum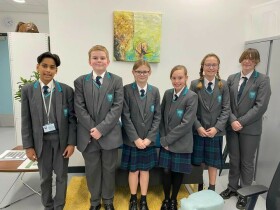 Pupils from across Houlton School's six Colleges have had the chance to represent their peers during the first Pupil Forum.
As part of the session, pupils shared ideas on how to continually improve the Houlton Family and ensure that everyone's voice is listened to. Pupil Fora will now be held fortnightly and will offer the chance for everyone to be involved.
Chloe Buckenham, Vice Principal, said: "Our founding pupils have a valuable role to play in shaping our school as our community grows. Their thoughts and ideas will contribute directly to our plans for the future as we welcome more pupils year-on-year."