Ashlawn School students celebrate a host of top GCSE results
24 Aug 2023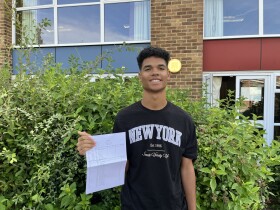 There were lots of smiling faces at Ashlawn School in Rugby when students celebrated a host of top GCSE results. 
Paul Brockwell, Principal at Ashlawn School, said: "Over the last few months we've been talking a lot about 'our best, always', an ethos that we want our whole school community to live by, every day.
"Today, I've seen the results of these young people working hard and trying their best in abundance and there have been some truly outstanding individual achievements. Given all that these students have been through as a result of the pandemic, that is even more remarkable."
Amongst those celebrating were six students who all achieved at least five Grade 9s each - Natasha Wright, Blythe Kilburn-Small, Ana Carlig, Sangwon Kang, Ava Rogerson and Eva Diaz-Aliste.  
Natasha Wright, who achieved 8 x Grade 9s and 1 x Grade 8, will now join Ashlawn School's Sixth Form to study A-Levels in French, English Literature and Art. She said: "I secretly hoped for these results, so it is a relief to finally know. I worked really hard and am so pleased it paid off." 
Blythe Kilburn-Small was delighted to find out that she had achieved 7 x Grade 9s and 3 x Grade 8s, including 1 x Grade 9 in Art which she studied as an additional subject in her free time. She said: "I'm feeling good about my results, I'm pretty thrilled actually. I'm going to celebrate with an Afternoon Tea today!" 
Sangwon Kang, achieved 6 x Grade 9s, 1 x Grade 8, 1 x Grade 7 and a Level 2 Distinction. He said: "I'm pleased with my results. I did a lot of revision, made sure I understood the content and focussed on preparing for my exams. I'm looking forward to studying A-Levels in Chemistry, Biology, Maths and Further Maths now before I apply to Medical School." 
Eva Diaz-Aliste achieved 5 x Grade 9s, 3 x Grade 8s and 1 x Grade 7 and plans to study her A-Levels with the hope of pursuing a career in the creative industry in the future. She said: "I'm so shocked, I did so well. I'd like to say thank you to my teachers, I couldn't have done it without them!" 
Malwina Marchewka was also celebrating after attaining 3 x Grade 9s, 4 x Grade 8s and 2 x Grade 6s. She said: "I'm so surprised, I didn't think I had done so well, particularly my Grade 9s in Biology, Physics and Psychology. I'm looking forward to starting Sixth Form now." 
Kyle Gregory, who achieved 3 x Grade 9s, 2 x Grade 8s and 4 x Grade 7s, is now planning to study Economics, Business and PE at Ashlawn School's Sixth Form with the hope to go on to a higher-level apprenticeship or become an entrepreneur in the future. He said: "I'm happy with that - I was particularly pleased to get Grade 9-9 in Combined Science. My advice to students joining Year 11 now is if you just make sure you're prepared and get your revision materials ready early it makes it so much easier." 
Fin Hughes achieved 3 x Grade 9s, 1 x Grade 8, 4 x Grade 7s and 1 x Grade 6. He said: "I'm pretty happy with my results, they were better than I expected especially in Psychology. We had some great support from the school – thank you!" 
Other top performers who deserve a special mention are: Samuel Smith, Aiden Porter, Eva Vipond, Amellia Gerrard, Olivia Turner and Lenny Wallis. 
Paul Brockwell added: "I would like to applaud all of our students for their tenacity and focus. They are inspirational young people who should be celebrated not only for their achievements, but also as the fantastic members of the local community that they have become.
"We are delighted to be welcoming so many of our amazing students back to our Sixth Form, as well as those joining us from other schools, and are looking forward to sharing Ashlawn's exciting journey together with them over the next two years."